Biblical Discipleship Ministries (BDM) was founded upon the idea that effective discipleship must start with the understanding that God's Word needs to be the Believer's "blueprint" for living. Only . . . the truth shall set you free (John 8:32). Not that we are sufficient of ourselves to think any thing as of ourselves; but our sufficiency is of God (2 Corinthians 3:5). BDM is a diversified teaching, discipleship, and travelling ministry with three main focuses:
Evangelizing the lost, because God is . . . not willing that any should perish but that all should come to repentance (2 Peter 3:9; 1 Timothy 4:10). For, Jesus died for all, that they which live should not henceforth live unto themselves, but unto him which died for them, and rose again (2 Corinthians 5:15).
Discipling the Believer to become . . . a workman that needeth not to be ashamed, rightly dividing the word of truth (2 Timothy 2:15).
Equipping God's people to . . . be ready always to give an answer to every man that asketh you a reason of the hope that is in you with meekness and fear (1 Peter 3:15).
The main subject matter of BDM teaching and resources include the following: Biblical discipleship, creation science vs. evolution, creation evangelism, Biblical conflict resolution, Christian leadership, cultivating discernment in a culture of deception, marriage and the family, Bible prophecy, the doctrine of the body of Christ, harmful trends from the New Age Movement/New Spirituality, and Worldviews.
Enjoy the trailer to BDM's newest (2022) creation science film.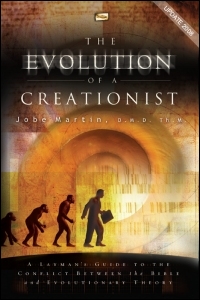 Get The Evolution of a Creationist ebook for free.
This book is a condensation and simplification of more than thirty years of studies that moved Dr. Martin from unquestioning belief in Darwinian evolution to undoubting trust in the special six-day creation by God as presented in the biblical account.